Beverly C. Taylor Trust for Borzoi Rescue Committee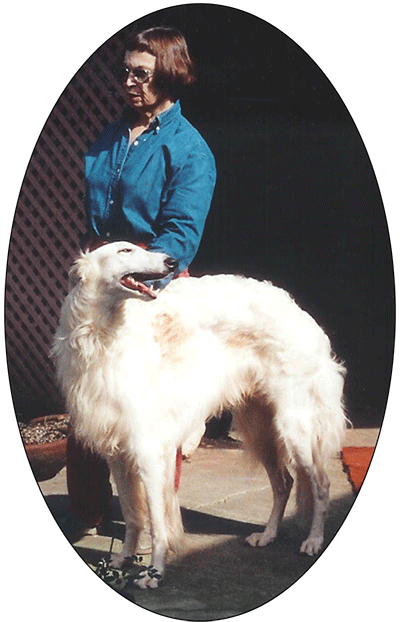 Beverly Taylor will be remembered as a tiny but feisty little lady with a deep and sincere love for the breed. So much so that she was quoted as saying "I love Borzoi so very much that I cannot stand the thought of even one of them ever suffering."
This was a goal that she fulfilled. Without a family or heirs, she and Fred willed most of their estate to BCOA rescue; all money for the sole purpose of protecting any and all Borzoi in need.
Fred had been a fighter pilot in World War II; he was ill for quite some time. Beverly was always there for him. He was buried with honors in Arlington. Beverly joined him there after her death.
Bev's pride in her life was her Borzoi. She always chose a large white male of show quality. She enjoyed being an owner/handler when able to and finished each dog to his championship.
Soon after Fred's death, Beverly learned she was suffering from metastasized breast cancer. Even while undergoing treatments she wanted only the best for her dogs, which included her idea of what was needed for their daily exercise. This courageous lady continued driving her van daily to the local park, with bicycle and dogs. How she must have caused heads to turn as she pedaled along the bicycle paths with one or two of the males quietly trotting alongside. Each of her three Borzoi easily outweighed their tiny mistress.
After her death the three remaining Borzoi were returned to Majenkir kennels in New Jersey. Bob Cartbona flew out to Washington and drove the dogs back to their birth home, as was Bev's wish. Prince Charming, who was Bev's favorite, never seemed to adjust well after her death and seemed the saddest dog. One day while passing the familiar brown van, Prince balked then pulled in the van's direction. He reared up on his hind legs and looked in each window. Prince was obviously remembering and searching for his beloved mistress.
The estate money has gone a long way to help the breed, thanks to the Taylors' generosity. How pleased Beverly would be if she knew each story with a happy ending, thanks to the money and the dedicated rescue people in our breed.
The Beverly Taylor Trust
The goal of the Beverly C. Taylor Trust for Borzoi Rescue is to ensure that no Borzoi in need of rescue will ever be turned down due to lack of funds.
The trust was set up to have all income and principal irrevocably dedicated to the support of Borzoi rescue. The details of the administration of the Beverly C. Taylor Trust may be found in Article X of the BCOA Bylaws.