Louis Murr, owner of the renowned Romanoff Kennels and Senior "All-Breeds" judge died February 6th, 1978.
Louis Murr was a life member of the BCOA and has held many offices in our Club beginning in the early 1920s when he acted as Secretary-Treasurer up to the 1950s when he reduced his activities to judging.
Mr. Murr bought his first Borzoi in 1917 when Nicholas II was still Czar of Russia. During his early years he was guided by some of the first important Borzoi breeder importers in this country. Men such as Joseph B Thomas of O'Valley Farm Kennels and John de Mund of Lorraine Kennels provided him with the foundation stock. He started his kennel in a four-story brownstone in Greenwich Village (New York City) and later moved just outside New York City. During the Thirties he often maintained over 90 Borzoi in his kennel, "not counting pups and bitches being bred".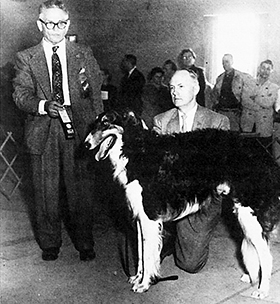 Many considered him 'Mr. Borzoi' since he was first in this country to win Best in Show with a Borzoi (Ch. Vigow O'Valley Farm) in 1930. He always considered his greatest achievement as having bred Vigow of Romanoff who was best American-bred dog in the country in the years 1934 and 1935 (also a first for a Borzoi). Vigow was never defeated in the Breed and won BOB 77 times, Group I 67 times and Best In Show 21 times. Vigow of Romanoff was killed by a bitch in season when he was 6½; Vigow O'Valley Farm lived to be 16.
His Romanoff Kennels produced many, many other champions and Best In Show Borzoi up until the early 1950s. Louis Murr always handled his dogs himself and while showing never traveled farther than 200 miles from his home in Rockland County, New York; thus this great record of wins by his Kennel was made with restricted travel and owner-handling in a time when there were far fewer shows.
In addition, Louis Murr made profound contributions to the hound breeds where he helped in the establishment of Afghans and Deerhounds in this country. Mr. Murr worked with many breed clubs where he advocated change when he felt change would improve a breed's quality.
Mr. Louis Murr in the 1950s with
Russ Everhart and Ch. Trezor Boris
Louis Murr's span of activity in the dog world encompassed the entire period between the establishment of many breeds in this country and that of the country gentleman's pastime of the dog show to the vast, multi-faceted sport of today. After more than 50 years as an "All-Around" judge, his commitment and contributions to purebred dogs was profound and will be felt for many years to come. For over 60 years he fought to protect our breed from departure for the original type. In the early Twenties he battled against, won, and as a result virtually eliminated "Roman-headed" Borzoi which were once thought very stylish. Since then he vociferously fought many well-meaning but misguided attempts to change the standard that would have resulted in the exaggeration of our breed and for over 50 years his great influence has not only benefited our breed, but all of dogdom.