2021 National Specialty
Official Judging Schedule - DOWNLOAD HERE
Sweepstakes Entries- CLICK HERE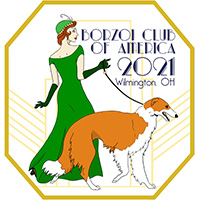 BCOA holds an annual National Specialty Show whose location rotates from region to region and of course there are different judges each year. View the list of locations and list of judges.
ONLINE THYROID CLINIC AND CHIC DNA FORM INSTRUCTIONS
Come to Ohio - May 24-29, 2021
NOTE: When you attend any event in Ohio, an event waiver needs to be signed and turned in at the event. Please download the COVID-19 WAIVER HERE.
In addition to conformation classes (including Futurity and Sweepstakes events), there will be an ASFA lure trial and/or AKC lure trials and on occasion AKC Junior Courser tests and straight-racing (LGRA). Also included are obedience, rally, a triathlon (combined scores for conformation, lure coursing and obedience) and junior showmanship. At times Agility or Rally Obedience will also be included.
Also offered may be art auctions, costume contests, silent auction, pee wee classes, health seminars, membership education seminars, raffles and the annual membership meeting. In addition will be the annual banquet where awards for the year's top dogs are presented and the next year's national specialty details are released.
Thanks to BCOA and its hard-working members on the National committee, each national specialty promises a lot of fun and competition and the viewing of quality dogs and their abilities. For further information e-mail the Show Secretary.
Judges
Regular Classes: Michael Canalizo
Sweepstakes Classes: Carol Kubiak-Zamora
Junior Showmanship: Michael Canalizo
Pee Wee and Toddler Classes: Prudence Hlatky
Obedience and Rally: Shirley Spall
Futurity: Laura Hyatt LaVanway
Field Events:
AKC Lure Trial: Katie Kaltenborn and Kirby Overcash