1972 National Specialty - Pennsylvania, PA
JUDGES - Mrs. M. Lynwood Walton
Sweepstakes: Mr. J. Council Parker
Best of Breed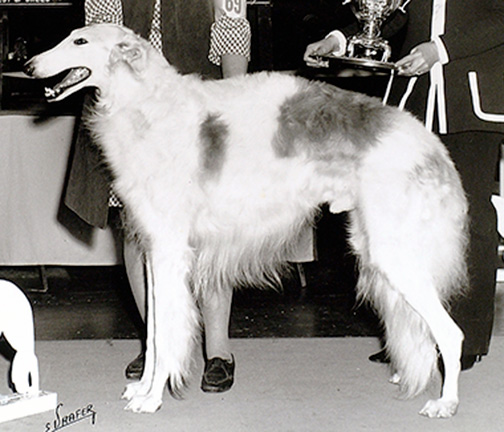 Ch. Loral's Iossif Ivanevitch
HA922140. 4-10-67. Breeders: owners. By Ch. Trezor Ivan - Ch. Loral's Electra Zorka. Dog. Owners: Albert J. and Lorraine M. Groshans
Best of Opposite Sex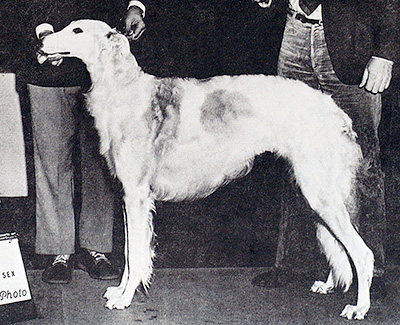 Ch. Majenkir Kristal Fawn
HB353818. 12-18-70. Breeder: owner. By Ch. Conamor Count Tauskey, CD - Ch. Tanya Majenkir of Kalevala, CD. Owner: Karen Staudt
Best of Winners / Winners Dog / 1st Open Dog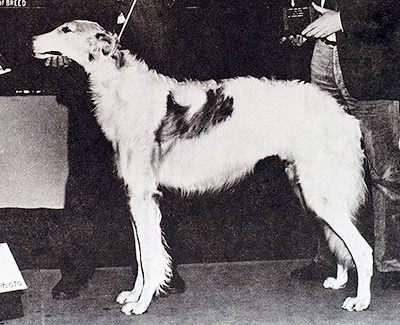 Majenkir Boris Gudonov
DOB 11-27-70; Breeder Karen Staudt
By Ch. Majenkir Sverkai Snow Stag, CD ex Shadybrook Swan of Wilolea
Owners: Ira and Virginia Sherr
Winners Bitch / 1st Open Bitch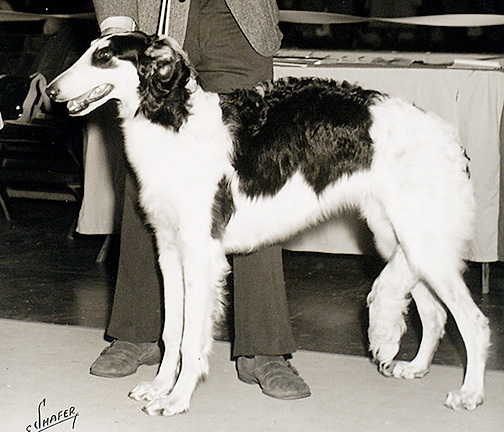 Cossack Questa Glory of Loral
HB464226. 6-21-71. Breeders: Lorraine M. and Albert Groshans
By Ch. Loral's Ivan Ivanevitch - Ch. Loral's Electra Zorka
Owners: Harry Ohlinger and Jeff Campbell
Reserve Winners Dog / Bred By Exhibitor 1st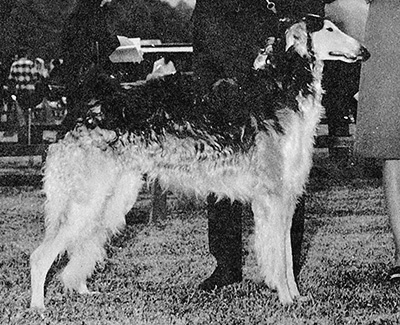 Tsarevna's Brandy Alexander
DOB 5-13-71; Breeder: Owner
By Ch. Galand's Baronoff ex Ch. Ristovia's Tsarevna Sheeba
Owners: A.C. and Mary Neal;
Reserve Winners Bitch / Bred By Exhibitor 1st
Cathcade Charisma
HB466244. 8-20-70. Breeders: owners
By Conamor Christoff Cade - Eau de, Foret
Owners: Cherry J. and Dennis L. Jones
---
Dog, 6 months and under 9 - 1st
Kostroma's Serov Of Volga
DOB 3-12-72; Breeder G.D. Hinkle and Bruna Henry
By Ch. Rogdal of Volga ex Tusnaja of Volga
Owners: George D. Hinkle and Wm. M. Reddick
Dog, 6 months and under 9 - 2nd
Lazy Acres' Budda V Countrybar
DOB 4-8-72; Breeder Jim Rosenzweig
By Shandan's Brutus ex Lazy Acres' Veiled Pagan
Owner: Patricia K. Lovelace;
Dog, 6 months and under 9 - 3rd
Barmenias Balaleika
DOB 5-16-72; Breeder: Owner
By Ch. Walhof Wilolea Ivan ex Walhof Black Magic of Wilolea
Owner: Brigitta L. Bement;
---
DOGS, 6 months and under 9 - OTHER ENTRIES
Absent - Ristovia's Lancer of Angar. DOB 6-8-72; Breeder David and Violet Ristau; by Malinki of Ristovia ex Ristovia's Countess Janda. Owner: Juanita Irvin;
---
Dog, 9 months and under 12 - 1st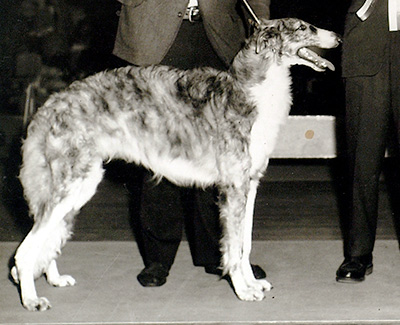 La Lejana's Grey Smoke
DOB 1-28-72; Breeder Mrs. Manuel Castells
By Ch. Majenkir Sverkai Snow Stag, CD ex Venga Djevoika of Sunbarr
Owner: Manuel Castells;
Dog, 9 months and under 12 - 2nd
Cordova's Aran Of Baronoff
DOB 1-26-72; Breeder A. Louise Heaton
By Paasha of Cordova ex Ch. Milova of Cordova
Owners: Nancy B. Baglini and Weldon J. McCluskey
---
Dog, Novice - 1st
Malachi's Poscha Von Bergho
DOB 10-9-71; Breeder ?
By Ch. Sirhan Poraschai ex Utka Alexander
Owners: Albert M. Rosenhaus and Candace S. Clements;
---
DOGS, Novice - OTHER ENTRIES
Absent - Germain's Excellus of Mar Ber. DOB 5-7-71; Breeder H.P. Brady and D. Ford; by Kall of the Wild's Rebel ex Lara-Lostit of Zender Czar. Owners: Mark J. Berkel and Gary S. Dodd
---
Dog, Bred by Exhibitor - 1st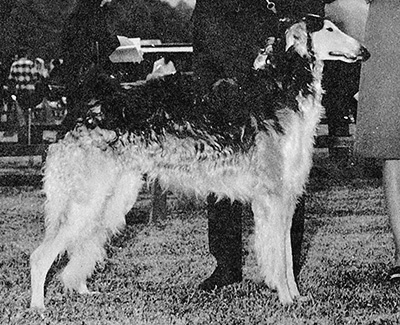 Tsarevna's Brandy Alexander
DOB 5-13-71; Breeder: Owner
By Ch. Galand's Baronoff ex Ch. Ristovia's Tsarevna Sheeba
Owners: A.C. and Mary Neal
Dog, Bred by Exhibitor - 2nd
Samurai De Foret
DOB 3-6-71; Breeder David Abraham
By Ch. Bachelors Forest Redwood ex Ch. Felicia De Foret
Owner: Joanna Abraham;
Dog, Bred by Exhibitor - 3rd
Cesare Borgia Phd
DOB 4-6-70; Breeder Carol A. and Frances Kubiak
By Ch. D'Artagnan Baronoff, PHD ex Phaedrian's Wolfin V Kostroma
Owner: Frances Kubiak;
Dog, Bred by Exhibitor - 4th
Lazy Acres Flim Flam-Man
DOB 2-15-71; Breeder P. Lovelace
By Ch. Sirhan Rugay of Wilolea ex Enchantra Duncan
Owners: P. K. Lovelace and D. Mosher
---
DOGS, Bred by Exhibitor - OTHER ENTRIES
Wohlactbar Krassata Von Uhl. DOB 12-4-71; Breeder: Owner; by Ch. Loral's Ivan Ivanevitch ex Wohlactbar Tsarina Von Uhl. Owner: Cecilia Uhlmann
Vanya of Baronoff. DOB 6-7-71; Breeder: Owner; by Ch. Loral Mudrei Sava ex Ch. Aries Allegra. Owner: Mrs. Weldon J. McCluskey
Loral's Quiet Thunder. DOB 6-2-71; Breeder A. J. and L. M. Groshans; by Ch. Loral's Ivan Ivanevitch ex Ch. Loral's Electra Zorka. Owner: Lorraine M. Groshans
Chekhov of Collisto. DOB 6-18-71; Breeder: Owner; by Ch. Misha of Cordova ex Katrinka of Cordova. Owner: Joan D. Cole
Absent - Di Rona's Prince Ivan. DOB 12-9-71; Breeder: Owner; by Ch. Conamor Sir Alex of Di Rona ex Di Ronas Kazanna of Cordova. Owner: Helen R. Langner
---
Dog, American Bred - 1st
Naian Baronoff, PHD
DOB 9-3-70; Breeder Katherine E. McCluskey
By Ch. Kalmyk of Baronoff ex Ch. Maya of Baronoff
Owners: Catherine and Frances Kubiak and Katherine McCluskey;
Dog, American Bred - 2nd
The Rogue Of Lazy Acres
DOB 9-28-68; Breeder P. K. Lovelace and Thursey L. Frost
By Ch. Duncan's Shandan of Lazy Acres ex Balathzar of Nazareth
Owner: Donna L. Webster
Dog, American Bred - 3rd
Jurjan Of Pheasant Hill
DOB 5-8-71; Breeder T. A. Fulmer and Madeleine v. Clement
By Ch. Loral's Iossif Ivanevitch ex Ch. Chara Troika of Pheasant Hill
Owner: Dr. A. V. Riasanovsky;
Dog, American Bred - 4th
Loral's Mikhail Svyatogor
DOB 12-16-68; Breeder Lorraine M. Groshans
By Ch. Loral's Iossif Ivanevitch ex Ch. Loral's Kari Kostenov
Owner: Philip T. Miller:
---
DOGS, American Bred - OTHER ENTRIES
Nicky the Great of Tam-Boer. DOB 11-22-71; Breeder L. E. Tamboer; by Tyddo of Tam-Boer ex Tasha of Tam-Boer III. Owners: W. Hamersma, J. Hamersma and L. Tamboer;
Loral's Royal Treasure. DOB 10-20-71; Breeder Lorraine Groshans; by Ch. Loral's Iossif Ivanevitch ex Loral's Charisma of Sunbarr. Owner: Wilbur B. Pittinger;
Copper Cavalier of Collisto. DOB 6-18-71; Breeder; D. Cole; by Ch. Misha of Cordova ex Katrinka of Cordova. Owner: Nancy H. &. Donald E. Saxton
Perun of Pheasant Hill. DOB 5-8-71; Breeder T. A. Fulmer and Madeleine v. Clement; by Ch. Loral's IossiF Ivanevitch ex Ch. Chara Troika of Pheasant Hill. Owner: Walton Clement, III
Absent - Sirhan Nazarov. DOB 2-6-71; Breeder A. and J. Benbow; by Ch. Sirhan Nagradka of Sunbarr ex Ch. Sirhan Katya. Owner: P. K. Lovelace
Absent - Boris of Twin Elms. DOB 6-21-71; Breeder Sylvia Sohr; by Alexi of Twin Elms ex Dresden Lady of Twin Elms. Owners: C. M. Dougherty and W. D. McCorkle
Windswept Aleksei Nikolai. DOB 5-7-70; Breeder R.D. and G.A. Rathbun; by Wilolea's Windswept Alexi ex Wilolea's Windswept Tanya. Owner: Dorothy L. Billman
---
Dog, Open - 1st
Majenkir Boris Gudohov
DOB 11-27-70; Breeder Karen Staudt
By Ch. Majenkir Sverkai Snow Stag, CD ex Shadybrook Swan of Wilolea
Owners: Ira and Virginia Sherr
Dog, Open - 2nd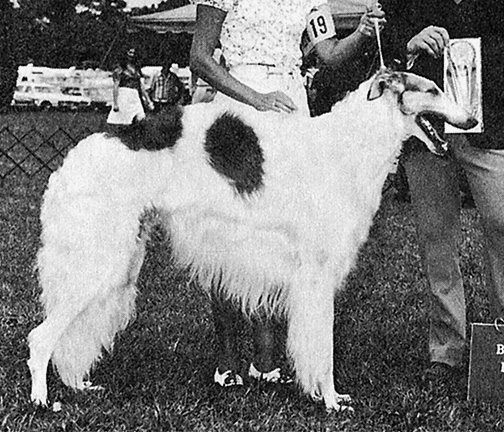 Loral's Nika Timofe
DOB 10-28-69. Breeders: L. M. and A. J. Groshans. By Ch. Trezor Ivan - Ch. Electra Zorka. Owner: Barbara Neiberg.
Dog, Open - 3rd
Cathcade Monarch's Czar
DOB 7-20-70; Breeder Cherry J. and Dennis L. Jones
By Conamor Christoff Cade ex Eau De Foret
Owners: Ronald W. and Sandra Hamilton
Dog, Open - 4th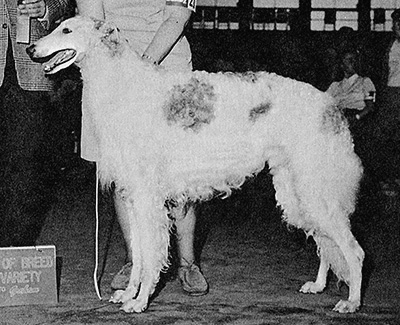 Tigow Of Tam-Boer
DOB 11-22-71; Breeder: Owner
By Tyddo of Tam-Boer ex Tasha of Tam-Boer III
Owners: Leonard and Elizabeth Tamboer
---
DOGS, Open - OTHER ENTRIES
Loral's Nalivka Krassivaya. DOB 10-28-69; Breeder L. M. and A. J. Groshans; by Ch. Trezor Ivan ex Ch. Loral's Electra Zorka. Owners Robert H. and Cynthia G. Berglund
Otto's Obedon Del Viento. DOB 5-22-71; Breeder B. Binder; by Otto Newmar of Rancho Gabriel ex Tasia of Falcon Hurst. Owners: John and Carolyn Payne
Charodei of Pheasant Hill. DOB 5-8-71; Breeder T.A. Fulmer and Madeleine W. Clement; by Ch. Loral's Iossif Ivanevitch ex Ch. Chara Troika of Pheasant Hill. Owner: Dr. A. V. Riasanovsky
Absent - Cathcade Curio. DOB 6-29-70; Breeder Cherry J. Jones; by Conamor Christoff Cade ex Shady Brook Ladi of Wilolea. Owner: Dennis Lee Jones
Absent - Germain's Augustus of Mar Ber. DOB 5-7-71; Breeder H.P. Brady and D. Ford; by Kall of the Wild's Rebel ex Lora-Lostit of Zender Czar. Owners: T. J. and J. A. Van Dunk and M. J. Berkel
Absent - Rugay Aspor of Pheasant Hill. DOB 5-8-71; Breeder T.A. Fulmer and Madeleine W. Clement; by Ch. Loral's Iossif Ivanevitch ex Ch. Chara Troika of Pheasant Hill. Owners: Ed and Ann Filetti
---
Bitch, 6 months and under 9 - 1st
Ridgeside Toasted Honey
DOB 5-6-72; Breeder: Owner
By Ch. Galand's Baronoff ex Ch Ridgeside Smoke Cloud
Owner: Alfred W. Edlin, MD
Bitch, 6 months and under 9 - 2nd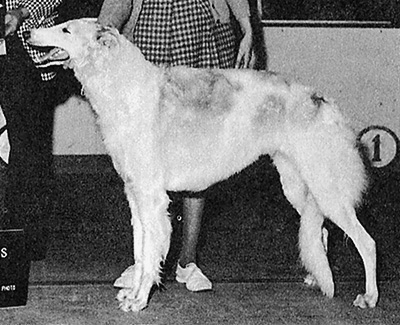 Nelshire's Milayna Makhaylia
DOB 6-9-72; Breeder Eileen Nelson and Carolyn F Dow
By Ch Sorvan of Tam-Boer ex Ch. Tisha of Cordova
Owner: Mrs. William J. Nelson;
Bitch, 6 months and under 9 - 3rd
Nelshire's Richeen Rishka
DOB 6-9-72; Breeder Eileen Nelson and Carolyn F Dow
By Ch Sorvan of Tam-Boer ex Ch. Tisha of Cordova
Owners: Eileen Nelson and Richard Nelson;
Bitch, 6 months and under 9 - 4th
Lazy Acres' Pagan V Countrybar
DOB 4-8-72; Breeder J. Rosenzweig
By Shandan's Brutus ex Lazy Acres' Veiled Pagan
Owner: Patricia K. Lovelace;
---
BITCHES, 6 Months and Under 9 - OTHER ENTRIES
Ridgeside Burnt Sugar. DOB 5-6-72; Breeder: Owner; by Ch. Galand's Baronoff ex Ch Ridgeside Smoke Cloud. Owner: Alfred W, Edlin, MD
Kostroma's Svetana of Volga. DOB 3-12-72; Breeder G.D. Hinkle and Bruna Henry; by Ch. Rogdal of Volga ex Tusnaja of Volga. Owners: George D. Hinkle and Wm. M. Reddick
Kostroma's Serena of Volga. DOB 3-12-72; Breeder G.D. Hinkle and Bruna Henry; by Ch. Rogdal of Volga ex Tusnaja of Volga. Owner: Janet G. Rommel
Lazy Acres Kasia of Benchmark. DOB 4-10-72; Breeder P. K. Lovelace; by Ch. Duncan's Shandan of Lazy Acres ex Ch Arie's Flirtasia of Lazy Acres. Owners: Laraine F. McLean and P. K. Lovelace
Eglona of Karistan. DOB 3-10-72; Breeder Irv and Nancy Bonios; by Ch. Springbank Sarno ex Windy Hills Fancy Tassy. Owners: Tena Bocciarelli, Bente Opsahl and Nancy Bonios
L'vitsa Pukh of Pheasant Hill. DOB 4-22-72; Breeder M. W. Clement and T. A. Fulmer; by Ch Loral's Ivan Ivanevitch ex Ch. Lubim of Pheasant Hill. Owner: Madeleine W. Clement
Ljubimaya of Pheasant Hill. DOB 4-22-72; Breeder M. W. Clement and T. A. Fulmer; by Ch Loral's Ivan Ivanevitch ex Ch. Lubim of Pheasant Hill. Owner: Madeleine W. Clement
Absent - Laskavaja of Pheasant Hill. DOB 4-22-72; Breeder M. W. Clement and T. A. Fulmer; by Ch Loral's Ivan Ivanevitch ex Ch. Lubim of Pheasant Hill. Owner: William Dennis Hanely
---
Bitch, 9 months and under 12 - 1st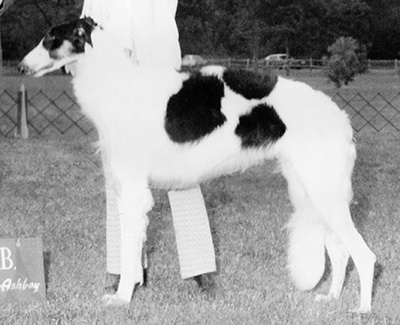 Crescent's Vamp Of Tamarisk
DOB 2-23-72; Breeder A. B. and F. S. Brian
By Ch. Sirhan Poraschai ex Ch. Kalinka of Aristoff
Owners: Rosemary and Glenn Gregg
---
Bitch, Novice - 1st
Sardonyx Of Cordova
DOB 11-26-71; Breeder L. Heaton
By Paasha of Cordova ex Ch. Cameo Carenya of Cordova
Owner: Louise Heaton
Bitch, Novice - 2nd
Anu Belea Ulanova Of Wilolea
DOB 5-6-71; Breeder Wm. Woodley and Mr. and Mrs. S. Gilmore
By Ch. Prince Myshkin of Wilolea ex Bella's Beauty of Wilolea
Owner: Linda G. Diamond;
Bitch, Novice - 3rd
Libido Of Phaedrian
DOB 4-6-70; Breeder Carol A.& Frances Kubiak
By D'Artagnan Baronoff Phd ex Phaedrian's Wolfin V Kostroma
Owner: Charles J. Kubiak;
Bitch, Novice - 4th
Wild Spice Of Vari
DOB 10-10-69; Breeder Joanna Abraham
By Ch. Bachelor's Forest Redwood ex Foret Shalimar De Cordour
Owner: Nancy O. Werlich;
---
BITCHES, Novice - OTHER ENTRIES
Loral's Royal Tiara. DOB 10-20-71; Breeder Lorraine M. Groshans, by Ch. Loral's Iossif Ivanevitch ex Loral's Charisma of Sunbarr. Owners: Carole E. and Elaine J. Misko;
Absent - Alova Pavlovna. DOB 9-12-71; Breeder: Owner; by Loral's Naian Shavka ex Trezor Pavlova. Owners: Robert A. and Sheryl G. Mastej;
Absent - Laska-Lani of Pheasant Hill. DOB 4-22-72; Breeder Madeline W. Clement and T. Fulmer; by Ch. Loral's Ivan Ivanevitch ex Ch. Lubim of Pheasant Hill. Owner: William Dennis Hanley;
---
Bitch, Bred by Exhibitor - 1st
Cathcade Charisma
HB466244. 8-20-70. Breeders: owners
By Conamor Christoff Cade - Eau de, Foret
Owners: Cherry J. and Dennis L. Jones
Bitch, Bred by Exhibitor - 2nd
Cossack's Cinderella
DOB 9-8-71; Breeder Harry Ohlinger and Jeff Campbell
By Ch. Cossack's Aristotle ex Cossack's Maly Tascha
Owner: Harry Ohlinger
Bitch, Bred by Exhibitor - 3rd
Collisto Cascade Of Cordova
DOB 6-18-71; Breeder: Owner
By Ch. Misha of Cordova ex Katrinka of Cordova
Owner: Joan D. Cole
Bitch, Bred by Exhibitor - 4th
Valia Of Baronoff
DOB 6-7-71; Breeder K. E. McCluskey
By Ch. Loral's Mudrei Sava ex Ch. Aries Allegra
Owner: Mrs. Weldon J. McCluskey
---
DOGS, Bred by Exhibitor - OTHER ENTRIES
Tsarevna's Alyssa Zarladai. Owners: A. C. and Mary Neal; DOB 5-l3-71; Breeder: Owner; by Ch. Galand's Baronoff ex Ch. Ristovia's Tsarevna Sheeba. Owners: Dr. and Mrs. Alexej Tschekvnow
Absent - Zorka Chekunov. DOB 5-30-71; Breeder Dr. and Mrs. A. Tschekunow; by Veetyaz Chekunov ex Laska Chekunov. Owners: Dr. and Mrs. Alexej Tschekvnow
---
Bitch, American Bred - 1st
Shandra Of Cordova
DOB 11-26-71; Breeder Louise Heaton
By Paasha of Cordova ex Ch. Cameo Carenya of Cordova
Owner: Joan D. Cole;
Bitch, American Bred - 2nd
Wilolea's Windswept Sasha
DOB 10-26-69; Breeder William Woodley
By Wilolea's Blazaway ex Wilolea's Snow Swept Syblline
Owner: Dorothy Billman;
Bitch, American Bred - 3rd
Sonya Of Tam-Boer
DOB 11-22-71; Breeder: Owner
By Tyddo of Tam-Boer ex Tasha of Tam-Boer III
Owners: Leonard and Elizabeth Tamboer;
Bitch, American Bred - 4th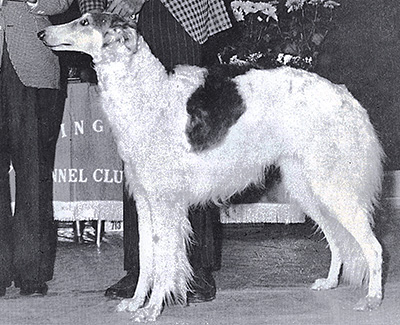 Cossack's Adriana
DOB 9-22-69; Breeder H. Ohlinger and J. Campbell
By Ch. Loral's Iossif Ivanevitch ex Ch. Petrikov Tascha of Helicon
Owners: Stanley Alper and Pedro Rodriguez;
---
BITCHES, American Bred - OTHER ENTRIES
Tedjoi Czarina of Cossack. DOB 9-8-71; Breeder Harry Ohlinger and Jeff Campbell; by Ch. Cossack's Aristotle ex Cossack's Maly Tascha. Owner: Joyce Beddow;
Absent - Ristovia's Portia of Angar. DOB 4-21-71; Breeder David and Violet Ristau; by Ch. Ristovia's Velecki Von Baron ex Ristovia's Baroness Alexanda. Owner: Juanita Irvin
---
Bitch, Open - 1st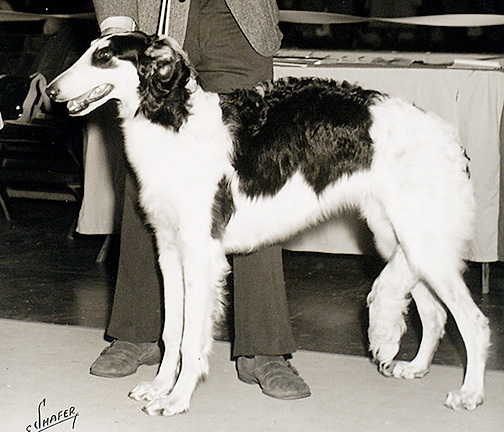 Cossack Questa Glory of Loral
HB464226. DOB 6-21-71. Breeders: Lorraine M. and Albert Groshans
By Ch. Loral's Ivan Ivanevitch - Ch. Loral's Electra Zorka
Owners: Harry Ohlinger and Jeff Campbell
Bitch, Open - 2nd
Marber's O'Tiffany Of Loral
DOB 5-14-70; Breeder Debra and Lorraine Groshans
By Ch. Loral's Mudrei Sava, CD ex Ch. Loral's Iskra Ivanovna, CD
Owners: Mark J. Berkel and Lorraine Groshans;
Bitch, Open - 3rd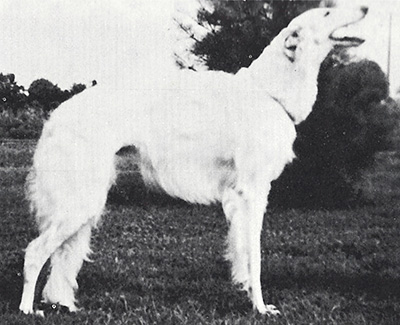 Tarnoff's Pasha P'Yesnya
DOB 3-19-70; Breeder: Owner
By Ch. Loral's Ivan Ivanevitch ex Ch. Tarnoff's Suzee Samovna
Owner: Carol A. DiGioacchino
Bitch, Open - 4th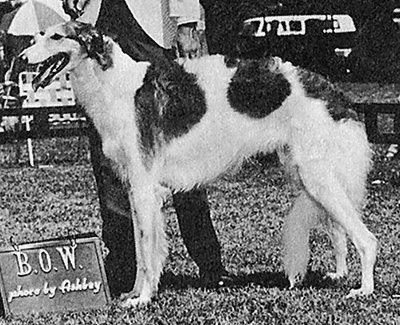 Loral's Pavlova Iossevna
DOB 6-20-70; Breeder Lorraine Groshans
By Ch. Loral's Iossif Ivanevitch ex Loral's ex Loral's Zizanie of Aristoff
Owners: Hilda Osterhout Young and L. Groshans
---
BITCHES, Open - OTHER ENTRIES
Frost Croft Sabrina. DOB 5-11-70; Breeder T. L. Frost; by Ch. Wilolea's Windswept Alexi ex Frost Croft Ballerina. Owners: D. W. Wright, Sr., M. H. Holderman and T. L. Frost
Snow Stag's Djevoika. DOB 6-1-71; Breeder: Owner; by Ch. Majenkir Sverkai Snow Stag, CD ex Venga D Jevoika of Sunbarr. Owner: Mrs. Manuel Castells
Bralova's Chara of Wilolea. DOB 4-25-69; Breeder Woodley and Bralove; by Ch. Adage Duncan, CD ex Springett Sheer Vanity. Owner: Olga J. Bralove
Majenkir Robed in Ermine. DOB 7-29-71; Breeder K. Staudt; by Ch. Majenkir Appollonian Tsar ex Shadybrook Swan of Wilolea. Owner: Alfred W. Edlin, MD
Pia Peshkov of Cordova. DOB 8-22-70; Breeder: Owner; by Ch. Sirhan Poraschai ex Ch. Cordova Mishka of Baronoff. Owner: L. Heaton
Loral's Mishka Ivanovitch. DOB 12-16-68; Breeder Lorraine Groshans; by Ch. Loral's Iossif Ivanevitch ex Ch. Loral's Kari Kostenov. Owners: Pedro Rodriguez and Stanley Alper
Penny Lane Darling Maggie. DOB 6-24-70; Breeder Carolyn Thomas; by Ch, Loral's Igor Ivanevitch ex Jo-Wag's Czarina of Ristovi. Owner: Charles Pastorius
Czarina of Pheasant Hill. DOB 5-8-71; Breeder Terry A. Fulmer and M. W. Clement; by Ch. Loral's Iossif Ivanevitch ex Ch. Chara Troika of Pheasant Hill. Owner: Mrs. Charles J. Shoaf
Absent - Hot Honi Harlow. DOB 4-16-69; Breeder O. Bralove; by Wilolea's Prince Igor ex Quelle Belle Des Mariettes. Owner: Moni Reisman
Absent - Laska Chekunov. DOB 4-5-70; Breeder Mrs. E. Thompson; by Ch. Trezor Valdai of Sunbarr ex Ch. Kukla Kry-Lyesa. Owners: Dr. and Mrs. Alexej Tschekunow
---
Veteran Dog And Bitch - 1st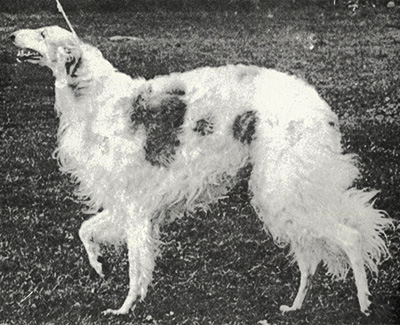 Ch. Flying Dutchman Of Tam-Boer
DOB 12-6-64; Breeder L. S. and L. Tamboer
By Ch. Allah of Tam-Boer ex Ch. Lady Gretchen of Tam-Boer II (Dog)
Owner: William Hamersma;
Dog, Veteran 7 years and under 10 - 2nd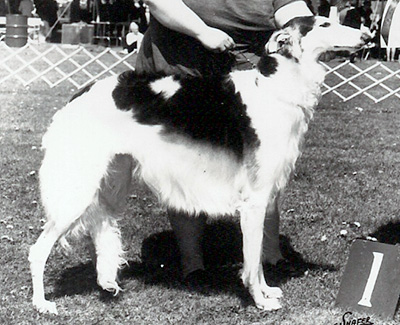 Ch. Tarnoff's Suzee Samovna
DOB 2-13-65 Breeder Elizabeth Allison
By Ch. Loral's Alpha Sverkai ex Kalevala Victoria (Bitch)
Owner: Carol A. DiGioacchino
Dog, Veteran 7 years and under 10 - 3rd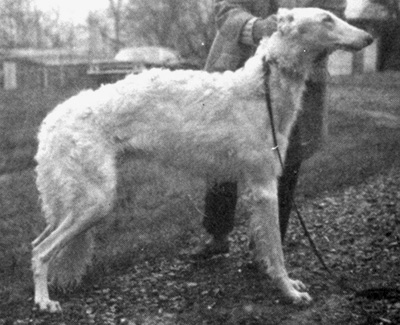 Ch. Loral's Electra Zorka
DOB 11-27-64; Breeder: Owner
By Ch. Petrikov Midas of Sunbarr ex Loral's Bakarska Vodica (Bitch)
Owners: Albert J. and Lorraine M. Groshans
---
Brood Bitch Class - 1st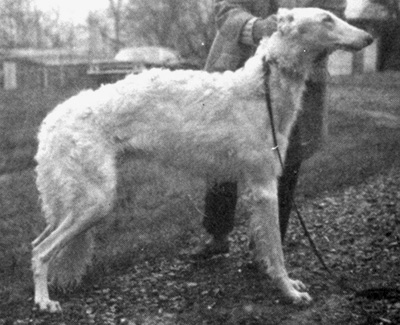 Ch. Loral's Electra Zorka
DOB 11-27-64; Breeder: Owner
By Ch. Petrikov Midas of Sunbarr ex Loral's Bakarska Vodica (Bitch)
Owners: Albert J. and Lorraine M. Groshans
Brood Bitch Class - 2nd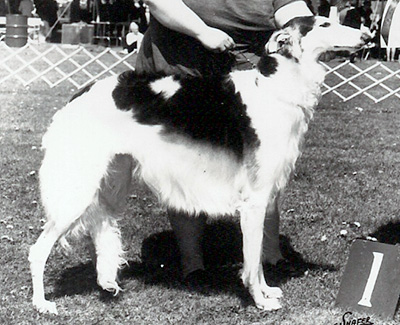 Ch. Tarnoff's Suzee Samovna
DOB 2-13-65 Breeder Elizabeth Allison
By Ch. Loral's Alpha Sverkai ex Kalevala Victoria (Bitch)
Owner: Carol A. DiGioacchino
Brood Bitch Class - 3rd
Ch. Shadybrook Sunup Of Wilolea
DOB 1-2-68; Breeder Wm. Woodley and Joan Carusone
By Ch. Sirhan Kaissak ex Ch. Baguette Duncan
Owner: Sheila Sugarman;
Brood Bitch Class - 4th
Ch. Ridgeside Smoke Cloud
DOB 3-19-70; Breeder: Owner
By Ch. Czar ex Ch. Galand's Tamara or Cordova CD
Owner: Alfred W. Edlin, MD;
---
Brood Bitch Class - OTHER ENTRIES
Lubim of Pheasant Hill. DOB 5-10-67; Breeder Madeleine W. Clement; by Ch, Vastri of Rancho Gabriel ex Ch. Aleksandra of Baronoff. Owners: Madeleine W. Clement and Terry A. Fulmer
---
General Specials - OTHER ENTRIES
Ch. Lara of Aries - Roslyn Pall; 8-2-70; Breeder Sheila Sugarman; by Ch. Sirhan Porchai ex Ch. Shadybrook Sunup of Wilolea (Bitch)
Ch. Sh'aries Own Lone Ranger - Elliott B. Weiss and Sheila Sugarman; 8-2-70; Breeder Sheila Sugarman and M. Blumenfield; by Ch. Sirhan Porchai ex Ch. Shadybrook Sunup of Wilolea (Dog)
Ch. Mogadan of Volga - Mr. and Mrs. N. J. Reese and Mrs. Bruna Henry; 1-14-68; Breeder Mrs. B. Henry; by Ch. Vladinoff of Volga ex Varenka of Volga (Dog)
Ch. Cossack's Aristotle - Harry Ohlinger and Jeff Campbell; 9-22-691 Breeder: Owner; by Ch. Loral's Iossif Ivanevitch ex Ch, Petrikov Tascha of Helicon (Dog)
Ch. Vala Rama's Gone with the Wind - Mrs. R. V. Clark, Jr.; 8-2-70; Breeder D. Robb; by Ch, Vala Rama's Phoenix of Sunbarr ex Ch. Sirhan Govorushka (Dog)
Yekhali Von Uhl - Glenn and Rosemary Gregg; 7-18-69; Breeder Cecilia Uhlmann; by Wohlachtbar Tsar Von Uhl ex Wohlachtbar Tsarina Von Uhl (Bitch)
Ch. Ridgeside Smoke Cloud - Alfred W. Edlin, MD; 3-19-70; Breeder Alfred W. Edlin, MD; by Ch. Czar ex Ch. Galand's Tamara of Cordova, CD. (Bitch)
Ch. Ridgeside Prince Witcoff, CD - Alfred W. Edlin, MD; 3-19-70; Breeder Alfred W. Edlin, MD; By Ch. Czar ex Ch. Galand's Tamara of Cordova, CD (Dog)
Ch. Ristovia's Baron Dmitri - Doris E. Ludy; l-30-69; Breeder D. L. and V. K. Ristau; by Ch. Ristovia's Felwood Boja ex Ch. Ristovia's Countess Tina (Dog)
Ch. Misha of Cordova - Katherine McCluskey and Madeleine Clement; 6-21-69; Breeder Louise Heaton; by Ch. Galand's Alexander ex Ch. Cordova's Mishka of Baronoff (Dog)
Ch. Ristovia's Baron Komar - Miss Sue E. A. Vasick; 11-1-67; Breeder David L. and Violet K. Ristau; by Ch. Ristovia's Felwood Boja ex Ristovia's Countess Tina {dog)
Ch. Kostroma's Petrov of Tarnoff - George D. Hinkle and Wm M. Reddick; Breeder Carol DiGioacchino; by Ch. Loral's Ivan Ivanevitch ex Ch, Tarnoff's Suzee Samovna; 3-19-70 (Dog)
Ch. Loral's Electra Zorka - Albert J. and Lorraine M. Groshans; 11-27-64; Breeder: Owner; by Ch. Petrikov Midas of Sunbarr ex Loral's Bakarska Vodica (Bitch)
Ch. Majenkir Sverkai Snow Stag, CD - Karen and James Staudt; 10-3-68; Breeder Karen Staudt; by Ch. Conamor Count Tauskey, CD ex Ch. Tanya Majenkir of Kalevala, CD (Dog)
Ch. Aires Bernard Thor - Bente Opsahl; 3-24-70; Breeder P. J. Rosenthal; by Ch. Nightsong Thor of Sunbarr ex Malora's Picaresco (Dog)
Absent - Ch. Bralova's Gaucho Lindo - Olga J. Bralove; 4-16-72; Breeder: Owner; by Wilolea's Prince Igor ex Quelle Belle Des Mariettes (Dog)
Absent - Ch. Kostenov Barrymore - Mr. and Mrs. Emil M. Berkel; 6-20-69; Breeder Byron G, Avery; by Ch. Sweet William De Foret ex Ch. Kostenov Cecily Cardew (Dog)
Absent - Ch. Mendeleev of Cordova - Mr. and Mrs. George H. Kwei; 6-21-69; Breeder Louise Heaton; by Ch. Galand's Alexander ex Ch. Cordova Mishka of Baronoff (Dog)
---
Best Junior Puppy in Sweepstakes / 9-12 Months Dog 1st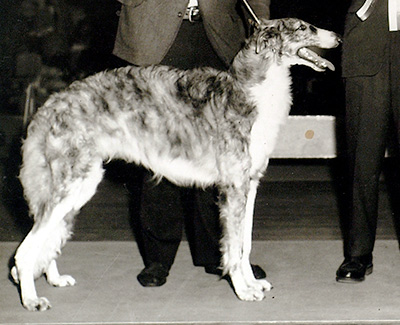 La Lejana's Grey Smoke
Owner: Manuel Castells
Best of Opposite Sex To Best Junior Puppy in Sweepstakes / 6-9 Months Bitch 1st
Lazy Acres' Pagan V Countrybar
Owner: Patricia K. Lovelace
---
Puppy Sweepstakes Dogs, 6 months and under 9
1 - BARMENIAS BALALEIKA - Brigitta L. Bement
2 - KOSTROMA'S SEROV OF VOLGA - George D. Hinkle and Wm. M. Reddick
3 - LAZY ACRES' BUDDA V COUNTRYBAR - Patricia K, Lovelace
Absent - RISTOVIA'S LANCER OF ANGAR - Juanita Irvin
---
Puppy Sweepstakes Bitches, 6 months and under 9
1 - LAZY ACRES' PAGAN V COUNTRYBAR - Patricia K. Lovelace
2 - RIDGESIDE TOASTED HONEY - Alfred W. Edlin, MD
3 - NELSHIRE'S MILAYNA MAKHAYLIA - Mrs. William J. Nelson
4 - L'VITSA PUKH OF PHEASANT HILL - Madeleine W. Clement
Puppy Sweepstakes Dogs, 6 months and under 9 - OTHER ENTRIES
Ridgeside Burnt Sugar - Alfred W. Edlin, MD
Kostroma's Svetana of Volga - George D. Hinkle and Wm. M. Reddick
Kostroma's Serena of Volga - Janet G. Rommel
Lazy Acres Kasia of Benchmark - Laraine F. McLean and P.K. Lovelace
Nelshire's Richeen Rishka - Eileen Nelson Richard Nelson
Eglona of Karistan - Bocciarelli/Opsahl/Bonios
Ljubimaya of Pheasant Hill - Madeleine W. Clement
Absent - Laska-Lani of Pheasant Hill - William Dennis Hanley
Absent - Laskavaja of Pheasant Hill - William Dennis Hanley
---
Puppy Sweepstakes Dogs, 9 months and under 12
1 - LA LEJANA'S GREY SMOKE - Manuel Castells
2 - CORDOVA'S ARAN OF BARONOFF - Nancy B. Baglini and Weldon J. McCluskey
---
Puppy Sweepstakes Bitches, 9 months and under 12
1 - CRESCENT'S VAMP OF TAMARISK - Rosemary and Glenn Gregg
---
Best Senior Puppy in Sweepstakes / 12-15 Months Bitch 1st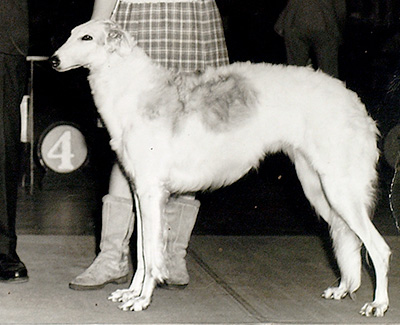 Snow Stag's Djevoika
Owner: Mrs. Manuel Castells
Best of Opposite Sex To Best Senior Puppy in Sweepstakes / 12-15 Months Dog 1st
Wohlactbar Krassata Von Uhl
Owner: Cecilia Ohlmann
---
Puppy Sweepstakes Dogs, 12 months and under 15
1 - WOHLACTBAR KRASSATA VON UHL - Cecilia Ohlmann
2 - TIGOW OF TAM-BOER - Leonard and Elizabeth Tamboer
3 - LORAL'S ROYAL TREASURE - Wilbur B. Pittinger
4 - COPPER CAVALIER OF COLLISTO - Nancy H. and Donald E. Saxton
Puppy Sweepstakes Dogs, 12 months and under 15 - OTHER ENTRIES
Malachi's Poscha Von Berghof - Rosenhaus/Clements
Nicky the Great of Tam-Boer - W. Hamersma/J. Hamersma/L. Tamboer
Chekhov of Collisto - Joan D. Cole
Absent - Boris of Twin Elms - C. Dougherty and Wm. D. Mccorkle
Absent - DiRona's Prince Ivan - Helen R. Langner
---
Puppy Sweepstakes Bitches, 12 months and under 15
1 - SNOW STAG'S DJEVOIKA - Mrs. Manuel Castells
2 - COLLISTO CASCADE OF CORDOVA - Joan D. Cole
3 - COSSACK'S CINDERELLA - Harry Ohlinger
4 - TEDJOI CZARINA OF COSSACK- Joyce Beddow
Puppy Sweepstakes Bitches, 12 months and under 15 - OTHER ENTRIES
Loral's Royal Tiara - Carole E. and Elaine J. Misko
Sonya of Tam-Boer - Leonard and Elizabeth Tamboer
Sardonyx of Cordova - Louise Heaton
Shandra of Cordova - Joan D. Cole
ABSENT - Alova Pavlovna - Robert and Sheryl G. Mastej
---